Against All Odds, Couple Achieves Dream of Homeownership
After renting for several years, Nick Socquet and Kaitlyn Honea were ready to put down roots and buy their first home together. However, their path to homeownership was riddled with challenges that would have deterred many buyers.
The couple first worked with another financial institution to secure a mortgage. Unfortunately, they were given incorrect information about the loan amount they qualified for, which set false expectations about their home budget. They also faced confusion over loan requirements, making the process extremely frustrating.
After hitting roadblocks on their path to homeownership, Nick and Kaitlyn refused to give up on their dream. They had recently worked with us to obtain a car loan and said that the loan officer, Veronica Wood, made the process seamless. She was prompt, courteous, and quickly processed the changes they needed to move closer to mortgage qualification while giving them the confidence boost they needed to keep moving forward. When they were ready for pre-approval, Veronica connected them with mortgage and commercial loan officer Stephanie Lachance, who expertly guided first-time homebuyers through the process and quickly put them at ease.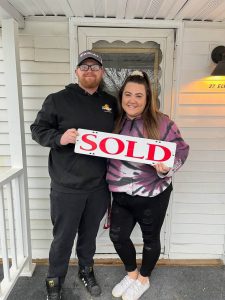 "Stephanie was extremely friendly and ready to help us from the start," Kaitlyn said. "She told us exactly what she needed to get the process going and gave us a real idea of our budget."
With our team, Nick and Kaitlyn secured a loan program tailored to their needs. Lachance guided them through every step, answering questions promptly and making sure they submitted the necessary paperwork.
"We felt comfortable even though it was stressful buying our first home," said Nick. "Stephanie made the process smooth and positive."
After three months of persistent home searching, they finally found their dream home and moved quickly to put in an offer. Lachance and other staff members worked diligently to push through the mortgage process, enabling the deal to close on time.
Socquet and Honea were thrilled to move into their new home finally. "Because of Stephanie and the team at New Dimensions, we're now living in the house of our dreams," said Kaitlyn. "We have nothing but rave reviews after our experience with them.
We work hard to be there for our members during all stages of their financial journey. From buying that first car to purchasing a forever home, we aim to provide the products, services, and guidance needed to help our members achieve financial stability and realize their dreams.
Nick and Kaitlyn's inspiring story shows that homeownership may not always be easy, but it is possible with perseverance and the right support. If you are hoping to buy a home and could use some guidance, we are here to help. Our mortgage loan officers have the expertise to find the right loan program and walk you through every step of the process.
Additionally, our certified financial coach is available for one-on-one appointments if you need counseling on budgeting, credit, debt management, and more to get your finances in shape for a significant purchase like a home.
To learn more about how we can help you achieve your dreams, contact us at:
info@newdimensionsfcu.com
(800) 326-6190
We look forward to working with you on your path to financial success!